Introduction
This presentation features selected items from the Jackie Gleason Collection of books, journals, periodicals, and publications accumulated by this world famous entertainer related to parapsychology.
Gleason, a comedian, television star, and motion picture actor of international acclaim, developed a deep and abiding interest in parapsychology and its many components. Gleason's interest grew from his inquisitive mind and sincere interest in the topic. However, the collection is not the product of Gleason's personal belief in the wide spectrum of phenomena represented by the term "parapsychology."
Rather, the gathering of these materials represents the life-long accomplishment of an individual who found the scholarly and popular literature of parapsychology a fascinating and entertaining subject. We know that Jackie Gleason cherished his collection, and he selected titles with great care and added generous gifts provided by friends. Marilyn Gleason, the widow of Jackie Gleason, donated the collection to the University of Miami Library in 1988.
Bookplate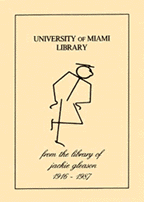 The bookplate prepared for the Gleason Collection contains a striking and memorable image. "The bookplate celebrates the comic genius of a remarkable performer," and was designed by Gleason during the 1950's. The stick figure depicted on the bookplate holds the familiar pose Gleason used at the conclusion of the monologue for his long-running television program. As Gleason struck this pose, he uttered the familiar phrase, "And Away We Go," a quote firmly established in the lexicon of American popular culture.
For additional information on this bookplate, you may consult Libraries and Culture: A Journal of Library History, Volume 28, Number 2, Spring 1993, pp. 215-17.
Description
The Jackie Gleason Collection includes approximately 1,700 volumes of books, journals, proceedings, pamphlets, and publications in the field of parapsychology, and a lesser quantity of titles relating to the entertainment industry. The Gleason Collection includes both scholarly and popular works published in the United States and abroad. Within the field of parapsychology, the collection offers materials on such topics as: witchcraft, folklore, extrasensory perception (ESP), unidentified flying objects (UFOs), reincarnation, mysticism, spiritualism, mental telepathy, the occult, ghosts, clairvoyance, cosmology, demons, hypnosis, life after death, mediums, psychical research, voodooism, and others.
Appropriate author, subject, and keyword searches using IBIS, the University of Miami on-line public access catalog, will locate relevant titles from the Gleason Collection. The titles identified in this document are provided to illustrate the scope and content of the Jackie Gleason Collection, and to introduce the reader to a fascinating and stimulating field of literature, popular culture, scientific investigation, and mystery.