Chronicles of Spirit Photography
"...I can conclude this work with a joyful anticipation of what may yet be in store for us in photographing those whom we look upon as invisible beings, and we may thus be the agents of a fuller revelation to redound to the glory of God. May his name be Blessed and Praised."
INTERBLENDED WITH PERSONAL NARRATIVE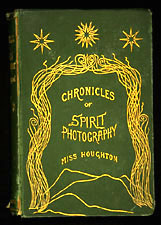 by: Miss Houghton,
Author of "Evenings at Home in Spiritual Seance"
Illustrated by Six Plates Containing Fifty-Four Miniature Reproductions from the Original Photographs
LONDON: E.W. ALLEN, AVA MARIE LANE, 1882.