Art Magic
"The student who wishes to delve into the ancient mysteries, as traced in occult lore, will find this volume invaluable; for here is condensed a vast fund of information that could not otherwise have been obtained, without many years of patient research, and with access to rare and scarce sources of knowledge."
A Treatise in Three Parts and Twenty-Three Sections: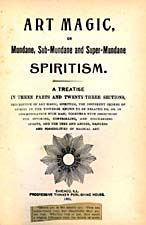 Descriptive of Art Magic, Spiritism, the Different Orders of Spirits in the Universe Known to be Related to, or in Communication with Man; Together with Directions for Invoking, Controlling, and Discharging Spirits, and the Uses and Abuses, Dangers and Possibilities of Magical Art.
Chicago: Progressive Thinker Publishing House, 1909.