The Other World
"The facts and records set forth (and throughout, the Editor has dealt with facts, rather than with theories) have been gathered from time to time during the past twenty years, as well as from ordinary historical narrations as from the personal information of several friends and acquaintances interested in the subject-matter of the book."
Being Facts, Records and Traditions Relating to Dreams, Omens, Miraculous Occurrences Apparitions, Wraiths, Warnings, Second-Sight, Witchcraft, Necromancy, Etc.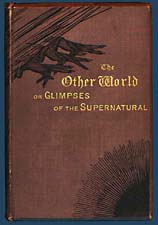 EDITED BY
The Rev. Frederick George Lee,
Vicar of All Saints', Lambeth
IN TWO VOLUMES. VOL.II.
LONDON: KEGAN PAUL, TRENCH, & CO., I
PATERNOSTER SQUARE. 1883.
"If there be anything set forth in this volume, in ignorance or misconception, contradictory to the general teaching of the Universal Church, the Editor puts on record here his regret for having penned it, and his desire altogether to withdraw such error."