Between Despair and Hope: Cuban Rafters at the U.S. Naval Base Guantánamo Bay, 1994-1996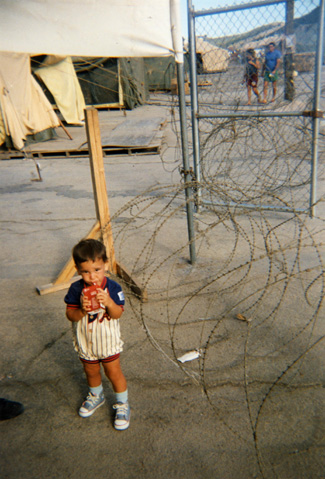 From August 1994 to February 1996, over 30,000 Cubans were detained at the U.S. Naval Base at Guantánamo Bay, Cuba, after attempting to reach the United States on rafts and other make shift vessels. For the first time in over 35 years, Cubans were not received with open arms by their neighbor to the north. Living in tents throughout various camps set up at the naval base, the Cuban rafters spent months uncertain of their future.
After risking their lives on the high seas in search of freedom, the rafters found themselves surrounded by barbed wire, waiting for their fate to be determined. Would they have to return to the repression and economic hardships of life on the island? Or, as so many other Cubans had for more than three decades, would they find refuge in the United States?
While they waited at Guantánamo, the Cuban rafters built communities that included informal schools for the 3,000 children at the camps, art galleries, gyms, several newspapers, and elected leaders. With the assistance of the U.S. military assigned to both contain and provide for them and the support of the Cuban exile community of South Florida, the Cubans at Guantánamo found hope amongst the dust, heat, and idleness of their detention.