The Calvin Shedd Papers > Introduction
Introduction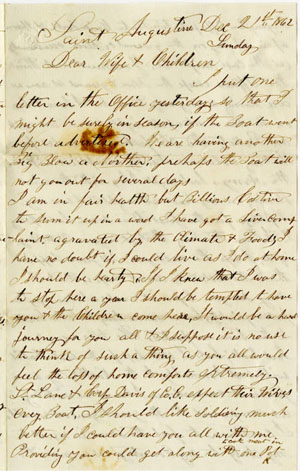 The Archives and Special Collections Department at the University of Miami Library houses a series of remarkable letters written by Calvin Shedd, a carpenter from New Hampshire, who enlisted in the Seventh Regiment, New Hampshire Volunteers and served the Union Army during the Civil War from 1862 - 1863. In these letters to his wife and three young daughters, Shedd recorded the debilitating physical hardships, the incredible tedium and the ever-present dangers of military life in Key West, Fort Jefferson and St. Augustine, Florida. Shedd wrote these fifty-three letters with great love, painstaking attention to detail, and a calm, reassuring hand. These documents convey the extraordinary circumstances that life in the Union Army offered one New Hampshire solider during the early years of the Civil War. Calvin Shedd has left us a lengthy commentary on a soldier's life in a sub-tropical military camp, with observations on the political and social implications of military decisions, and thoughtful discourses on the people, terrain, animals, fruits, climate, culture and the vagaries of life in the southernmost regions of Florida.
In his well-crafted, heart-felt letters, Shedd also mused on the constant struggle to maintain personal faith and a supportive family relationship while stationed in the southern-most region of Florida. These documents, authored at odd hours of the day and night and scribbled in fleeting moments of reflection between various military assignments, fitful rest periods, hospital recuperation, and rare bits of personal time add an invaluable resource to the historical record.
In addition to the cache of letters found in the Calvin Shedd Papers at the University of Miami, two other groups of Shedd materials are preserved and available for research. The Shedd Family Papers reside in the Special Collections Department of Dartmouth College; and the Calvin Shedd Papers are a recent addition to the University of South Carolina Library. As one might expect, these three historical collections, when taken as a single compilation, document the Civil War experiences of Calvin Shedd in exquisite detail. This virtual publication of the Shedd letters includes the University of Miami and Dartmouth College letters, and applies the technological capabilities of the World Wide Web to create a multi-dimensional editorial project. The University of South Carolina collection includes thirty-seven letters, dated from June – September 1862 and from June – October 1863. During these two periods, Shedd was stationed and later hospitalized in Beaufort and Hilton Head, South Carolina. These very important letters fill in time gaps in the University of Miami and Dartmouth collections. Taken together, these three collections contain a remarkable picture of the life of a carpenter turned soldier, following his travels from 1861 – 1869.
The University of Miami letters begin with Shedd's voyage from New York to Florida in March, 1862, and conclude with his departure from Florida, in October, 1863. Shedd's first letter from Florida, is written after a seventeen-day sea voyage. Shedd traveled with a portion of the Seventh Regiment, on board the Tycoon, a ship racked with disease transported from the unsanitary camp conditions of New York City. In this letter we see the first glimpse of the cruel conditions and physical hardships that marked life in military outposts. In a closing note to his children, we read the words of man heart-broken to be so distant from his dearly loved ones. Uncertain that he will ever see his children again, Shedd soon grew to cherish every word they wrote. Shedd's letters from Florida are filled great detail and description of the people, climate, flora, and dreaded insects of the southern regions. He describes his days in great detail and comments about fellow soldiers, officers, and the news of the war. He writes detailed advice to his wife about affairs at home and sends shells and flower pressings to his children. While stationed in St. Augustine, Shedd describes the oldest city in North America and details his duties as a newly appointed officer.
The Calvin Shedd Family Papers at Dartmouth College Library includes letters written by Shedd prior to his Florida adventures, as he relates Army training experiences at Camp Hale, New Hampshire and shortly thereafter in New York City. Ironically, this portion of Shedd's military service was among his most difficult and dangerous, as severe overcrowding, poor diet and quarters, and abysmal sanitary and health conditions created a deadly environment that traveled with Shedd and the Seventh Regiment from New York by boat to Key West, Florida. The Dartmouth College letters then resume after Shedd's Civil War service, with correspondence from Indiana and Illinois, where Shedd traveled to find work and wages to support his family. As with his war letters, Shedd offers thoughtful, descriptive observations on his life and activities, as well as heartfelt advice and yearnings for his dear wife and family.
The Calvin Shedd Papers collection at the University of South Carolina describes Shedd's the voyage from Florida to South Carolina and his hopes that the regiment will finally see military action. The regiment, however, is plagued with ill health and is ordered to St. Augustine to recuperate. Shedd falls ill while in Beaufort and is to ill to travel with the regiment to Florida at the end of August. Shedd rejoins the regiment at the end of September. The letters he writes from St. Augustine, dated between September, 1862, and April, 1863, form part of the University of Miami collection. Shedd returns to South Carolina with his regiment and the letters written from June through the beginning of October, 1863, are found in the University of South Carolina collection. In these months, Shedd again falls ill and spends a great deal of time in the General Hospital at Hilton Head. During this time he writes home in frustration over his health and inability to be on duty and his great anguish over the loss of life in the regiment during the assaults on Fort Wagner. In a letter addressed to Shedd, dated October 2, 1862, Lieutenant Adjutant H. G. Webber asks him to resign his commission, as Shedd's health makes it impossible for him to be of any use to the regiment. The letters from Shedd cease in October, but several notes from doctors in New Hampshire lead to the obvious conclusion that he did finally return home. Shedd was formally discharged from service on December 31, 1863, due to ill health.
The Miami, Dartmouth, and South Carolina collections do not contain any letters written to Shedd by his wife or other family members. While the apparent loss of these documents is understandable, their disappearance leaves us with one-half of the story.