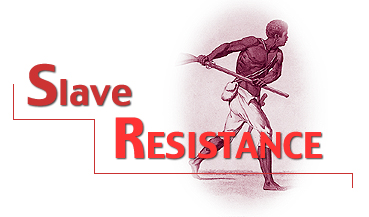 The students themselves invested their own desires, goals, meanings, tasks, and energies in making the class work. Here are some of their thoughts:


Jason:
When we began our class in January, we all knew this class style was going to be different. I think the primary goal of our class was to gain first hand knowledge of slave resistance, and formulate our own opinions. We hear and read historical facts, but often do not question their validity. Conducting the research in the archives gave each individual student an opportunity to practice real research. With modern day technology it's easy to type in a key word, and have a computer do most of the work. It's a different story when you are perusing through crumbling, delicate books. Furthermore, taking the information we learned, and making it available to others was a fantastic idea. We all went a step further than most classes, by creating our web site. What I learned about learning is, it comes in many different styles.


Eddie
My initial goal in the class was to get an A and perhaps enhance my Caribbean history knowledge in the process. However, when we got the website idea moving my goal began to change from getting an A to several different goals. These included, holding up my end by writing a interesting, yet accurate essay on my topic. I wanted the real resistance of slavery revealed, and i was excited that i could use primary sources to do this. It was a unique experience to be able to use the primary sources in the library archives, many of which were centuries old. I enjoyed the class. It was the first time i had ever taken a class like it.


Patricia:
I guess I registered for the class to learn about the Caribbean, which I really did not know anything about (except Cuba). I thought it would be reading, lecturing, papers and exams... like any other class. Honestly, I learned more going through the books in the library than reading Dunn, James and class discussions put together. Most important was the interaction with the other students. Normally, I don't get to know my class mates, but mainly because I don't get a chance to once the lecture is over. In this class I think I learned more from myclassmates than from the professor (no offense Dr. Baptist). But it is almost as if the purpose of the class became to inform each other on what we were doing, what we found (or not found) that day, how our essays were going, etc...I am sure that when we see that webpage completed it will give all of us an equal sense of accomplishment because it is something we built together.


Alex:
I thought the class was going to be just like any other interesting history class. However, i learned a lot more than i thought. …we felt comfortable making inquiries into what really happened. I guess in the end i learned that history depends on who wrote it and what book you are looking at. Someone once told me that history is a bunch of agreed upon lies. I like the ability of being able to make my own deductions and conclusions of what really happened in the past.


Erin:
Early on in the semester, when we began reading Dunn and James, I thought we would be learning about the tragedies behind the slave trade in the French and British islands in the Caribbean. This was true but it turned out to be a secondary objective from my perspective. What I later learned is the value of primary sources and how historians have come to learn of the events of the past by analyzing the clues left by the participants of these events. I also became aware of the enormous amounts of information that can be gathered from just one single primary document, journal, or illustration. I learned a lot about research and the value of primary sources. Without this class I would not have learned as much about the topics related to other courses and certainly would not have received the grades I did on my research projects in other classes. I would have thought that reading books written 200 years ago would have been a tad boring but it turned out to be extremely fascinating.


Leanna:
I would love to tell you what i got out of this class. When I signed up for the course I expected to learn about the history of the Caribbean through various text books and by just listening to the instructor lecture. While taking the class i realized that i was getting more than just reading the text and listening to the instructor. I got a chance to do research on a particular subject of choice; most of which were actual documents from those times. I got a chance to learn how to perceive comments written by certain authors. Most importantly i learned more about where modern day cultures may have evolved. What I learned about learning is that everything you read and learn from one source may not be the exact story...it all depends on the source.


Genise:
The goal of the course was to educate others about slave resistance and the concept of freedom in the Caribbean. The goal for each student, in the choosing of their own individual topic to research, became to educate others about what they perceived as an important act/event/symbol/institution, etc. for or against freedom and slave resistance. Also, why they perceived it as such was an important question that needed to be addressed. What was paramount about the goal of the class was that, even though we used primary sources and researched others' works, we were given the chance to interpret our findings from our very own perspective. In a way, we were given the change to edit, rewrite or add a nuance of information to the telling of the history of slavery in the Caribbean.

I considered all of the individual essays informative, as well as corrective. I thought of the essays in this way because maybe someone reading one of the essays may learn some thing new that will make them rethink a biased, established idea or perception they have about slavery in general that was never convincingly challenged.

Ultimately, [the process] encouraged us to make ourselves into more critical and independent thinkers.