Trumbull, Henry
History of the Discovery of America: Of the Landing of Our Forefathers at Plymouth, and of Their Most Remarkable Engagements with the Indians in New England . . . To Which is Annexed the Particulars of Almost Every Important Engagements with the Savages at the Westward to the Present Day. Including the Defeat of Generals Braddock, Harmer and St. Clair, By the Indians at the Westward; The Creek and Seminole War &C. Boston, 1832. 256 pp. This title includes two plates, a folding, woodcut frontispiece and is bound in contemporary marbled boards.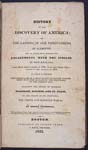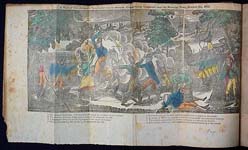 Trumbull's historical work was first published in 1802 in Brooklyn, New York under the pseudonym Rev. James Steward. Servies, in his bibliography, notes that the book was frequently reissued through the year 1840. Following 1841 the title of the volume changed to History of the Indian Wars. . . In describing the [1810] edition, Sabin notes that the book is considered a bibliographical mystery. The Rev. Steward seems to be a mythical figure and the printers in Brooklyn may be as fictitious as the author. This 1832 edition of the work is complete with chapters on the Creek and Seminole Wars, sections that first appeared in the 1819 edition. This volume is bound in contemporary marbled boards and includes two plates and one portrait, all of which are hand-colored. The somewhat crude but large woodcut frontispiece is "A View of Colonel Johnson's Engagement with the Savages (Commanded by Tecumseh) near the Moravian Town, October 5, 1812."
Trumbull's history begins with two chapters relating the discovery of America by Christopher Columbus and the landing of our forefathers. The remainder of the work deals with the hostilities and subsequent engagements with the Indians in New England and then the westward regions of the New World. The final chapter relates "preliminary observations" on the Seminole War. The chapter begins with the story of the Indian girl Milly Francis, who offered her own life to save a captured Georgia man. A hand-colored plate illustrates this scene. The remainder of the chapter consists of transcriptions of letters dealing with the hostilities in Florida written by those involved, including Edmund P. Gaines, Andrew Jackson and John C. Calhoun. In the preface to this section, Trumbull notes:
Without additional preliminary remarks, we shall now proceed to furnish our readers with such official accounts of the commencement and progress of the war with the Seminoles, as have been communicated to the government, by the commanding officers.
Although initially derided by historians and bibliographers as "worthless," this work is nevertheless valuable as a measure of the sentiments of the relatively unlettered American public at the time. One scholar, Peter Force, is cited for reporting he could find "scarcely a date correctly given in the whole book, having discovered twenty-two chronological errors on a single page."