To Capitalists
To Capitalists. The Advantages To Be Derived From Making Salt at Key West, Must Be Apparent To All Who Have Attended To the Manufacturing of the Article at Home, and To Its Importation From Foreign Ports. New York: Joseph C. Spear, Printer, 1829. 2 pp.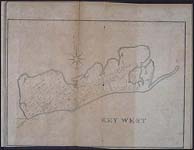 This fragile pamphlet, containing two printed pages and a fold out map, attempts to promote the burgeoning salt industry and trade in Key West, Florida. Also included is a signed stock prospectus from New York, dated July 15, 1829, no doubt to further entice potential investors. The island of Key West was purchased from the Spanish by John W. Simonton for $2,000. Simonton and three partners divided up the 340 acres of the Salt Pond into four sections. John Fleming, the partner most interested in the salt industry, undertook extensive studies of the salt producing industry, but unfortunately died in 1832 before his plans could materialize. The settlers of Key West considered the area to be an attractive site for the salt industry and during the mid-1800s the area produced as many as 75,000 bushels of salt in a year.
This pamphlet was published one year before a similar one by John Simonton, entitled Proposals for Establishing a Salt Company at Key West. It is not known whether Simonton or any of his partners were involved in this investment proposal. The fold out map of the island of Key West is most certainly a copy of the one drawn by William Adee Whitehead from data provided by the surveyor H.L. Barnum, published in February 1829. The pamphlet describes the Salt Ponds and compares the production capabilities to that of similar ponds in the Bahamas. The Key West ponds have the added advantage of being duty free and easily accessible to ships traveling to the Gulf or the Atlantic Coast. The treatise proposes the formation of a company in New York for making salt from one-fourth of the Pond. The venture could begin immediate operation with a capital of $40,000, divided into 400 shares of $100 each.