Ross, Alexandro
Der Gantzen Welt Religionen . . . In Asia, Africa, America, Und Europa . . . Amsterdam, 1667. 694 pp. 6 leaves, folding plates. This volume is housed in the original full vellum binding.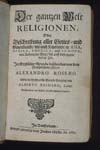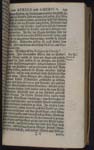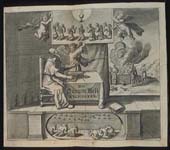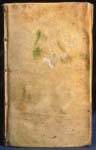 This rare work describes several religions of the world, with a section on Indian religions in Virginia, Florida, Mexico, the Yucatan and South America, and the attempts to Christianize these "heathens." The title was first published in German at Heidelberg in 1665. The small volume is bound tightly in tan leather. The pictured fold-out plate is placed opposite the title page. Fifteen other engraved plates include scenes of animal and human sacrifice, idolatry and other pagan rituals. Several plates seem to illustrate missionaries as they come among these natives, bearing crosses and other Christian imagery.
The book is a translation of the author's work in English, entitled Pansebeia; or A View of all Religions of the World, which was published in London in 1653. Six subsequent editions in English were published through 1696. A Danish translation was published in Amsterdam in 1662, followed by a French edition in 1666. This edition appears to be the second edition printed in German. The volume is divided into three sections, each discussing the religion in a different area of the world: Asia, Africa and America, and Europe. The second section includes the discussion of religion in America and contains sections on Florida, New Spain, Mexico, Yucatan, Brazil, Peru, and Hispaniola.
Alexander Ross was born in Aberdeen in 1591 and entered Kings College in Aberdeen in 1604. About 1616 he became master of the free school at Southampton and in 1622 he was appointed as one of Charles I's chaplains. Ross was the author of many books, most were quite small and were printed in English or Latin. His favorite subjects were theology, history and philosophy, though he did produce a considerable amount of verse. One of his more famous works was the History of the World, which he touted as the continuation of the famous history of Sir Walter Raleigh. Ross died in 1654, leaving a large estate. In his will he left a great deal to various parishes and universities for the maintenance of poor scholars.