Kimala Bennett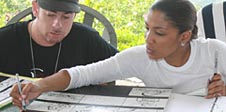 Kimala Bennett is a Film Director and Video Producer who lives and works in Jamaica.
Biography
Kimala Bennett
"It has to be believable" is the motto that repeatedly runs through the twenty-four year old film director Kimala Bennett 's mind whenever she is doing a music video, documentary or any other video production
Kimala has recently completed her degree in Psychology with a minor in film studies at Mount Holyoke College and is now aiming to be one of the best directors in the film fraternity.
Kimala got her first taste of directing music videos when she came back to Jamaica to do a documentary on Nanny of the Maroons which was funded through the summer research scholarship at Mount Holyoke College.
After the completion of her documentary she thought it would be a good opportunity to utilize her skills to direct a music video for her brother Nicky B, an up and coming dancehall singer, with virtually no budget. The video was an instant hit with the teenage audience in Jamaica and launched Nicky B's career in a serious way.
After graduating form Mount Holyoke College Kimala interned at HSI productions one of the leading Music Video/commercial companies in Los Angeles where she had the opportunity to work with the likes of Paul Hunter, Little X, and Chris Robinson. Having worked with some of the big guns in the business Kimala realizes that she still has a lot to learn and she also knows now that this is what she wants to do with the rest of her life.
To date Kimala has directed ten music videos including one for Atlantic recording artist Baby Cham .
Kimala is presently directing a documentary on music video director Hype Williams and will be on set with him in South Africa next year for his second feature film. (Content provided by Kimala Bennett 2008)
CV
Kimala Bennett
Education
Mount Holyoke College: South Hadley, MA; Bachelor of Arts Candidate May 2004
Major: Psychology; Minor: Film Production
Relevant Courses: Advance Documentary Film, Introduction to Documentary Film, Independent Study Summer 2003 (Directed/Edited Documentary of Jamaican Maroon )Video Production 1 &2 Introduction to Film Studies
University of Southern California School of Cinema and Television Summer 2003
Professional
The Production L.A.B.
Present
Managing Director
Direct/Produce television commercials, music videos, tv shows and documentaries
H.S.I. Productions, Culver City, Los Angeles
Summer 2004
Intern
Intern in the music video division. Worked closely with executive producers and assistants. Developed visual presentations, conducted research, reviewed directors reels, assisted directors on set and performed general office administrative duties.
Assisted"head of video production" with all aspects of pre-production and wrapping jobs.
Assisted the Director of Communications/P.R.in compiling press kits for various music video and commercial directors such as David Lachapelle, Joseph Khan, Chris Robinson, X, Paul Hunter and many others.
Miscellaneous Music Video Production Experience
Summer 2004
Consultant
Assisted in the writing and development of treatments and shot lists
Developed directors/artists press kits, including bios, credit lists and press articles
Second Assistant Director
Reported to the second assistant director for the scheduling of eighty extras on the set of Young Buck's music video "Shorty Wanna Ride" directed by Gil Green
Production Assistant
Mad House/Atlantic Records
November 2004
Director
Directed music videos for Atlantic recording artist Cham ( formally known as Baby Cham) "That's How I Ride" and "Hood" Reggae Summer fest: Montego Bay, Jamaica
Summer 2000-2002
Artist –Coordinator
Ensured that conditions of the riders/contracts were met including hotel reservations,meal plan, and transportation to and from the venue
Coordinated all activities involving artists which included pre and post performance interviews/ press conferences, artists include Sean Paul, Ja Rule, Alicia Keys, Snoop Dogg, Beenie Man and Jay Z
Production Assistant
Summer 1997-1999
Publicized and marketed events through press releases and created flyers for distribution
Performed general office administrative duties which included answering the phones and filing
CVM-TV, Kingston, Jamaica
Summer 2002
Production Co-ordinator
Organized and staged an island wide model search that was televised throughout the country
Secured venues on the island by contacting major hotels and banquet halls
Interviewed and selected judges to participate in the event
Publicized the event in major island media outlets
Arranged auditions by packaging audition requirements and criteria and notified chosen models
Office of Residential Life,
Mount Holyoke College, South Hadley Massachusetts
Hall President
Chief administrator of my residence hall
Responsible for coordinating hall meetings, communicating College policy, and overseeing the general operation of the residence hall.
Primary liaison to the Residential Life Office and other college offices
Production assistant for the following music videos: Will Smith "Switch"; Nelly "Flap Your Wings"; Mase "Welcome Back"; Van Hunt "Down Here In Hell".
[Content provided by Kimala Bennett]
Gallery 1
Kimala Bennett
See Sanjay's song "Lonely" go from concepts in a storyboard to the completed music video.

Gallery Index
Gallery Index
Gallery 1

Gallery 2


Clips from documentary Combing Through the Roots of Black Hair: "The Politics of Black Hair in jamaica"(video)
Interviews Index
Interview 5
Patricia Saunders interviews Kimala Bennett about "The Politics of Black Hair in jamaica" and other documentary work.


Interview Index
Interview Index
Pat Saunders interviews Kimala Bennett